Total Metal Innovations meets Bart Rims
The first thing I did when I decided I wanted beadlocks was to research the steel rims and the beadlock kit that I wanted to incorporate.
After shopping around for quite some time, I decided to go with a 15" x 8" steel rim made by Bart and sold by Summit.
An important thing to think about is your offset and the width of the rim itself.
These both play a major role in the final outcome of the project.
To see the rim that I purchased, click here.

I also did quite a bit of research trying to find a beadlock kit that I knew would be strong, is credible, and has a nice looking design.
My first choice was the TMI Skull pattern but then I realized that one of my good friends and I didn't want to be a twinkie.
After mulling it over, I decided to go with the 6 hole kit which I thought was simplistic but also had a nice look to it.
One of the main selling points for the TMI 6 hole kit was the availability of upgrade options.
The base kit is 3/16" thick, upgradable to 1/4". I chose to upgrade to the thicker material, in hopes this is the only beadlock kit I'll ever need.
To see the kit I ordered and options available, click here.




The first order of business once your ready to start is to remove all the paint from the surface of the rims lip.
This is not a fun nor glorious job. The paint from the factory is thick and very attached.
I used a cup shaped wire wheel and each wheel took about 20 minutes to complete.
I tried to use a gel paint dissolver, but it didn't work very well. In the end it was easier to just grin and bare it.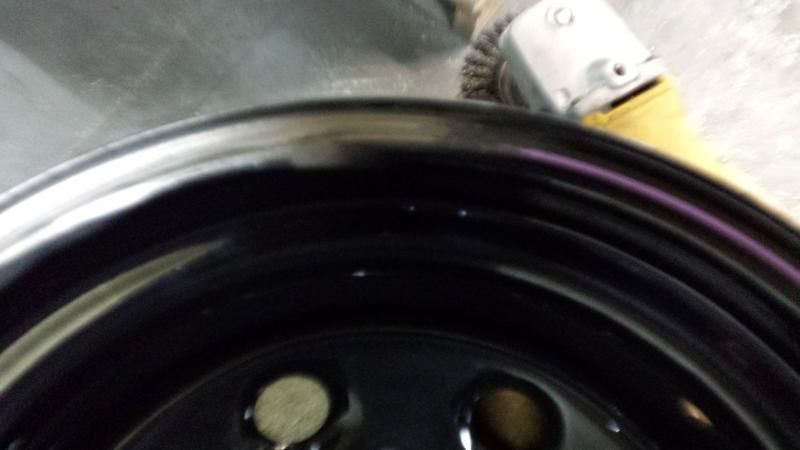 The welding to be done on this project was beyond my skill level, so I farmed it out.
A guy I work did the job for a minimal amount of money.
After the inner ring was de-burred it was positioned inside the lip of the rim, clamped and grounded for welding.